Martha Graham once said, "Great dancers are not great because of their technique, they are great because of their passion." I'd say that by that standard, the Evensen family is a collection of truly great dancers.

Saturday night, while making a cheeseball for the baby blessing on Sunday (more on that later) we had a little Shaun Barrowes playing, and naturally this turned into a little dancing in the kitchen.

Now, earlier that week I had googled Stephanie Birkitt after reading about her relationship with David Letterman. This led me to this video of her dancing -



- so of course, I began doing that dance move - I mean, how great is that? Then I turned and saw my dad doing what

appeared

to be the same move. This led to a couple of "Are you...?" "Wait, is that...?" back and forth between us a few times.

I mean, I figured I could say, "Are you doing David Letterman's ex-lovers old boyfriend's dance move?" But how awkward would it be if he had no clue what I was talking about? I mean - there was no real way to explain it if he hadn't seen it, so perhaps that would have been a dance-mood killer.

Well, it turned out he

was

doing the same thing! He had come across the same video while "researching" Birkitt - great minds google alike.

So thank goodness - rather than killing the dance mood, it led to lots of laughter and another round of the "Letterman's ex-lover's ex-boyfriend's dance move".

Everyone can do it! Here is Mom and I -



I believe it has now been inducted to the collection of family dance moves - which includes the following:

Any of the moves seen in this segment from A Charlie Brown Christmas -

Favorite moves include those demonstrated by Freida, Shermy, and Linus. There was this one Christmas Eve (not too long ago, mind you) that we turned on the movie and watched this part over and over again, dancing along as a family.(The over and over again part was courtesy of Christian, who ran up to rewind it every time we finished. And hey - once that music starts, you can't help but dance.)

Another classic move is one brought to us from Dad's high school days. It goes a little something like this -



A recent addition has come from Nils, who explains it this way - "You go up to a group..."
Unfortunately I don't have a photo to share. But it's an easy one! Just put both arms up in 90 degree angles. And...you're done. You can choose to pulse with the music some if you'd like.

And of course, the classic dance move that started it all. This dance move originated with Daniel at a Mariners game in the summer of 2006, I believe. Here Dad, Mom, and Anders do it at the Mariners game this last summer.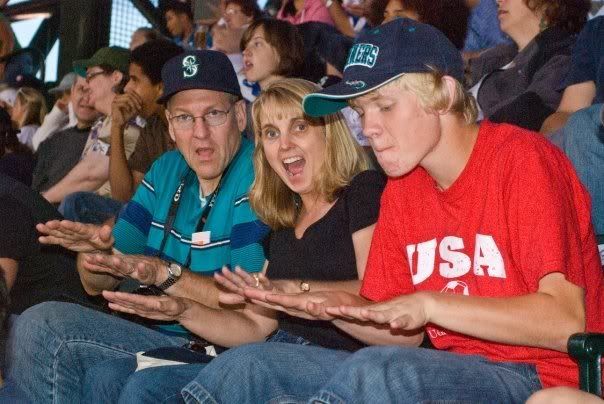 I'm sure Martha Graham would be very impressed.